April 28, 2023
Posted by:

LSN Partners

Categories:

Federal, Global Projects, Government Affairs
By: LSN Partners on April 28, 2023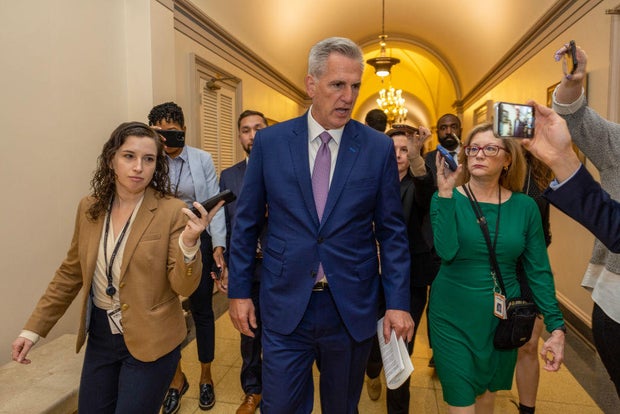 On Wednesday, Speaker Kevin McCarthy and House Republican leaders passed their debt-limit bill – the Limit, Save, Grow Act – through the House of Representatives. While this proposal will not survive bipartisan negotiations, it was an essential step for McCarthy and his leadership team. 
Republicans expect that items in the House-Republican bill could gain bipartisan support in the Senate, including changes in requirements for benefits programs, discretionary spending caps, and a fiscal commission on deficit reduction. 
Republican Study Committee Chairman Kevin Hern (R-OK) is pushing for Republican leaders to fight for all of the bills. But he said work requirements should be a top priority given their political popularity and previous Democratic support. "I think it's one of the areas that Joe Biden is going to have a hard time pushing back on," he said. So far, however, West Virginia centrist Sen. Joe Manchin is the only Democrat eager to entertain House Republicans' ideas. He said "there's a lot of pieces" from their bill to work with, naming work requirements as an example. 
The Republican bill would cut $131 billion from current discretionary spending levels to cap next year's spending at $1.47 trillion, the same level as the fiscal year (FY) 2022 topline. The proposed spending caps for the remainder of the decade would allow for 1 percent annual growth. 
House Democrats contend that the Republican-passed bill will jeopardize Medicaid coverage for over 80 million Americans, with extreme work requirements adding substantial red tape. In a press release, Senate Majority Leader Schumer stated that the bill endangers most federal investments in basic research, STEM education, and workforce training.
The bill cuts over $20 billion from the National Science Foundation, $17 billion from the Department of Energy's Office of Science, and $100 billion from the National Institutes of Health.  According to Senator Schumer and other bill opponents, these investments are integral for preparing the next generation of America's workforce to compete in sectors of strategic importance to the United States, such as advanced chip fabrication.
Next Steps
The next chapter will be much more difficult. Speaker McCarthy has been angling for another meeting with President Biden. We expect the president to invite the Speaker and Senator Majority Leader Chuck Schumer to the White House to continue negotiations.